Are you ready to present the findings of your study in a conference? Here are five pointers for research paper presentation that you will find handy.
I figured out these tips from my personal experience in presenting research papers in many conferences I attended.
Five Tips for Research Paper Presentation
1. Be ready with your presentation one week ahead.
Allocating a generous amount of time in preparing your slides means better quality presentation. Start preparing your research paper presentation at least a week ahead of schedule. This will give you ample time to download or prepare graphics that will make your presentation more interesting to your audience.
2. Assume that your audience does not know anything about your study.
Many presenters assume that their audience understands their jargon or scientific musings. Always assume that your listeners are laymen who know nothing about your study. This will help you present your ideas clearly to a broader group of people. After all, the intention of research is for people to see the relevance of your findings to their lives, not for purely academic debate. Reserve that one during your thesis or dissertation defense.
Your main purpose in attending the conference is to disseminate information. Many findings are left unutilized because people were not able to appreciate them in their utmost complexity.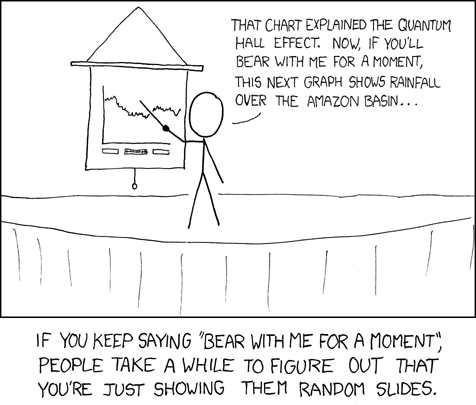 3. Present only the highlights of your research paper.
In a large gathering of professionals particularly those that cater to many disciplines, the sheer number of research papers submitted for presentation will leave researchers a very brief time to explain the results of their study. It is common that a presenter will be given 15 minutes to present his paper with 5 minutes allocated to questions or clarifications by a panel or the audience. This will mean preparing roughly 10 to 15 slides of content.
It is good practice, therefore, that for every slide you prepare, present only three to four bullet points to put your idea across. Don't be too wordy as the audience cannot grasp a paragraph-long content in one minute aside. This will also mean showing fonts that are indiscernible from afar.
Good quality, not tending to distract, and relevant graphics can help a lot. A picture speaks a thousand words.
4. Use large fonts that can be viewed easily from a distance.
How large fonts should be that these can be viewed from a distance? Arial font, size 26 can be a great size even from a 50 meter distance. Why arial? That's because the font has more or less even sized impression. Contrast "Arial" with "Times New Roman." The former is easier to read.
5. Always have a back-up.
Make sure that you have back-up copies of your presentation before going to the conference area. Copy a file in either a USB flash drive or a CD aside from having it in your laptop or desktop. If something goes wrong with your laptop or your file gets corrupted due to a virus that prevented you from accessing your files in the computer, you have another copy ready for use. Test each copy to make sure either works.
Applying these tips will help you gain more confidence in presenting your research paper. Do you have other tips to add? Leave your comments below.
©2014 November 6 Patrick Regoniel